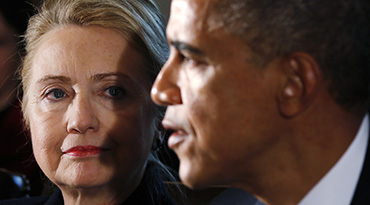 The root cause of the major issues that are devastating America is Obama; an out growth of who he is as a human being, his lack of character and what he believes.
Listing all of America's woes that are directly caused by Obama would take up far too much of this article; the flood of infected and unskilled illegals, the spread of ISIS http://bit.ly/1n3DO0m, the devastating fatal consequences of Obamacare, Ebola in the U.S.http://bit.ly/1v6RRaG, over 90 million unemployed, the disappearance of the 40 hours a week job, our failing economy and more.
Yes, I am going to be a bit tacky and say, I tried to tell y'all back in 2008, my black family, white friends and associates, but none of you would listen. I kept thinking, am I the one who is crazy? Will anyone even consider looking beyond his race and taking a good look at Obama, the man?
Instead, you verbally beat me up and called me an Uncle Tom for not going brain-dead with you and making an immoral racist decision to pull the level for Obama solely because he is black.
Well now look at cha. We have an insidious liar who hates America as founded and a blame-everyone-but-himself narcissist running our country. As our nation crumbles, everyone is running around asking like the Marvin Gaye song, "what's goin' on?"
Folks, Obama is what you get when you sell your soul to identity politics, placing surface appearances above character, substance and not properly vetting candidates.
And doggone it, it looks like many Americans are about to be manipulated into making the same stupid mistake again when Hillary Clinton throws her bonnet into the ring, running as the first female presidential candidate. The MSM will ignore all her scandals and disastrous policy failures. http://bit.ly/1nNIyya Hillary's gender will be the major qualifier for her to become leader of the free world. Sadly, millions of Americans will go brain-dead and vote for her, suckered again by identity politics.
The same way O.J.'s defense team worked black Americans into a frenzy against white America, causing millions of blacks to rally around Simpson while ignoring the fact that he practically beheaded the mother of his children, Democrats and the MSM will play America's women against America's men.
Come election day, the Democrats and MSM will have low-info voters believing that any man not voting Hillary Clinton for president is obviously a Neanderthal, a wife beater, an abortion clinic bomber or a Christian throwback chauvinist who desires to keep women barefoot, pregnant and in the kitchen (without a dishwasher).
Rest assured there will be dudes guilt-ridden for being born with testicles who will become metro-sexual brain-dead zombies and vote for Hillary to prove they are not who the MSM and Dems say they are; the same way a lot of whites voted for Obama to prove they were not racist. Think my gender guilt prediction is over the top? The Left has successfully brain-washed many white kids into feeling guilty for being white.
My fervent prayer is that the number of us "thinking" Americans who will honestly access who Hillary is as a person, her character and the direction she plans to take our country will outnumber the knuckleheads and low-info voters.
Click to continue reading "Identity politics: fool us twice, shame on us"


Go straight to Post