"Feelings, nothing more than feelings. Trying to forget my feelings of love…" Okay folks, I'll stop singing.
Is it just me or have you noticed that feelings now trump common sense and rational reasoned thinking in America today? Feelings have become more important than national security, our economy, the lives of our troops and even public health when you observe the politically correct way our government is dealing with this Ebola thing. It is insane.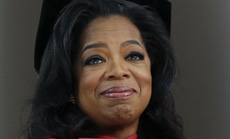 I am not blaming Oprah, but I saw this trend towards everything-being-about-feelings beginning decades ago when the Oprah Winfrey show became the hottest thing on national daytime TV. Has our culture become too feminized?
Before I continue, allow me to admit an embarrassing personal quirk. When I am passionately talking about an issue, I sometimes struggle to hold back tears. Encountering honorable things such as love, courage and goodness also tend to cause me to well up. Every time this happens during a radio or TV interview, I feel humiliated. I ask myself, "Lloyd Marcus what in the world is wrong with you?"
My mom was a very compassionate and emotional person. As her first born, I wonder if I inherited something from her. I rationalize my quirk with the knowledge that Jesus wept for his people. So, I am in good company.
Having said that, I am appalled by the emotion-driven touchy-feely brain-dead metro-sexual idiocy that is running the show in America today. Apparently, somehow I missed the national memo banning testosterone and common sense.
Dad taught my three younger brothers and me to take pride in being men; always try to do the right thing, stand up for what you believe, nobody owes you anything, protect and respect women. Dad instructed, "When you take a girl out on a date it is your responsibility to return her home safely." That is being a real man.
In our new wimpy America, manhood is no loner celebrated. Respecting women now includes asking a girl's permission before kissing her. Folks, biology dictates that most women like confidence in their men. Wimpy liberal dudes and hardcore radical feminists do not go nuts and misinterpret my point. I am NOT saying that women like overly aggressive jerks.
All I am saying is that I would not have witnessed the same swooning reaction from my mom to the movie scene in which Burt Lancaster kissed Deborah Kerr on the beach had Lancaster asked permission before kissing her. http://bit.ly/1rLpQFn
America's obsession with taking a kinder, gentler, careful not to offend or hurt anyone's feelings approach to everything is out of control.
A few examples…
Guilt feelings over America's sin of slavery have lead author and Ebola expert David Quammen to suggest that we risk Ebola getting into our country rather than blocking flights from Liberia. So this fool cavalierly advocates putting millions of Americans at risk of contracting Ebola as payback for slavery. This is insanity, folks. http://bit.ly/1CKvUD5
As a child, I remember my grandmother was sent away (quarantined) for over a year because she had tuberculosis. Should my family have raised a stupid emotion driven stink saying there they go again, locking way (enslaving) a black woman? Quarantining my grandmother was the right thing to do; common sense.
Click to continue reading "The Oprah-rization of America"


Go straight to Post