First, three flashbacks just to set the mood:
John Conyers: "I love these members that get up and say, Read the bill! Well, what good is reading the bill if it's a thousand pages and you don't have two days and two lawyers to find out what it means after you've read the bill?"
Nancy Pelosi:
The White House rubbing it in last year: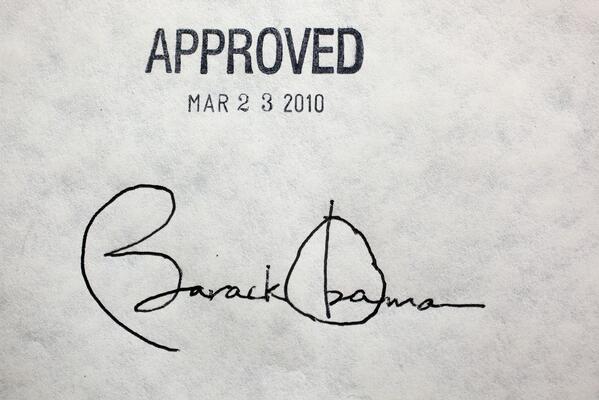 ***
With those in mind, Obamacare was dealt a bit of a blow today:
In a potentially crippling blow to Obamacare, a top federal appeals court Tuesday said that billions of dollars worth of government subsidies that helped nearly 5 million people buy insurance on HealthCare.gov are illegal.

A judicial panel in a 2-1 ruling said such subsidies can be granted only to those people who bought insurance in an Obamacare exchange run by an individual state or the District of Columbia — not on the federally run exchange HealthCare.gov.
[...]
The Obama Administration is certain to seek a reversal of the decision by the U.S. Court of Appeals for the District of Columbia Circuit, which does not immediately have the effect of law.
Many Dems are complaining that Obamacare has been "defunded" just because of a "glorified typo" while blaming conservative judicial activism for refusing to recognize the law's "intent" ("intent" defined as "not necessarily the way we wrote it").
A glance at the explanation for the ruling disintegrates the "judicial activism" charge (screen cap via Hot Air):
Judging a law based on how it's actually written and not attempting to ascertain the "intent" of its authors? How quaint!
Charles C. W. Cooke        ✔ @charlescwcooke Follow
Halbig is a victory for the idea that we write down our laws for a good reason and that words have real and concrete meanings.
And we can have lots of fun picking on the Dems for not reading or properly proofing the bill, but the language was in fact that way for a reason.
The game-playing simply came back to bite them, and, during the appeals process, the Obama administration, Pelosi, Reid and others will blame Republicans and "judicial activism," and the MSM will dutifully run with that ball.